Hey everyone,
Today, Ellen is taking part in the blog tour for Cradle to Grave by Rachel Amphlett, and I'll be sharing her review with you all just a little further down!
About the author: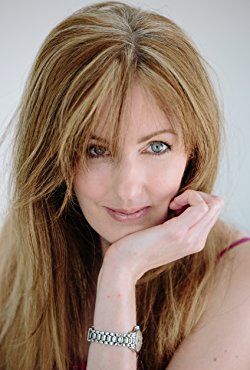 Before turning to writing, USA Today bestselling author Rachel Amphlett played guitar in bands, worked as a TV and film extra, and dabbled in radio as a presenter and freelance producer for the BBC. She now wields a pen instead of a plectrum and writes crime fiction and spy novels, including the Dan Taylor espionage novels and the Detective Kay Hunter series.
The Italian foreign rights for her debut novel, White Gold have been sold to Fanucci Editore's TIMECrime imprint, and the first four books in the Dan Taylor espionage series are published by Germany's Luzifer Verlag.
Her novels are available in eBook, print, large print and audiobook formats from libraries and worldwide retailers.
A keen traveller, Rachel holds both EU and Australian passports and can usually be found plotting her next trip two years in advance.
You can stay in touch with Rachel via her Reader's Group, or drop her a line via the contact form.
About the book:
When a faceless body is found floating in the river on a summer's morning, Detective Kay Hunter and her team are tasked with finding out the man's identity – and where he came from.
The investigation takes a sinister turn when an abandoned boat is found, covered in blood stains and containing a child's belongings.
Under mounting pressure from a distraught family and an unforgiving media, the police are in a race against time – but they have no leads, and no motive for the events that have taken place.
Will Kay be able to find a ruthless killer and a missing child before it's too late?
Click the link below to order your copy:
Ellen's Review:
Cradle to Grave is book eight in the Kay Hunter series by Rachel Amphlett and I can guarantee I will never tire of them! This series has become a comfort blanket of a read to me; I know as soon as I start I'll be drawn in and lost in Kay Hunter's world. This could be read as a standalone but I'll always recommend people to start from book one (Scared to Death) and read the whole series.
The book opens with an innocent scene of a father taking his son on a fishing trip but soon descends into horror when a faceless body drifts towards them down the river! As Kay and her team locate the murder site the case takes a gut wrenching turn when children's belongings are discovered and it becomes apparent that they are also investigating an abduction. This hits all the team hard whether they are parents or not and they are desperate to find the missing child who may still be in danger. Kay is especially touched by the case, she is still grieving over the loss of her own baby and is determined to reunite the family. Talking of family, it was lovely to see relationships between Kay and her mother finally defrosting and bridges being built.
I'm sure I've mentioned this before but Kay's partner Adam is one of my favourite secondary characters. Always there for her at the end of the day with a cold glass of wine, a lovely meal, comforting words and sometimes a cute home guest thanks to him being a vet! It's great to see a glimpse of Kay at home and how strong her support network is. Adam is the perfect book boyfriend!
Another strong addition to the series – bring on book nine!
Check out the blog tour: