Hey everyone,
Today, Ellen is taking part in the blog tour for The Fall of Koli by M. R. Carey and I'll be sharing her review with you all just a little further down.
Koli has come a long way since being exiled from his small village of Mythen Rood. In his search for the fabled tech of the old times, he knew he'd be battling strange, terrible beasts and trees that move as fast as whips. But he has already encountered so much more than he bargained for.
Now that Koli and his companions have found the source of the signal they've been following – the mysterious "Sword of Albion" – there is hope that their perilous journey will finally be worth something.
Until they unearth terrifying truths about an ancient war . . . and realise that it may have never ended.
Click the link below to order your copy:
The Fall of Koli by M. R. Carey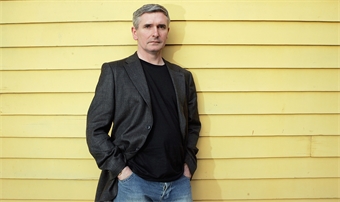 M. R. Carey has been making up stories for most of his life. His novel The Girl With All the Gifts was a word-of-mouth bestseller and is now a major motion picture based on his own screenplay. Under the name Mike Carey he has written for both DC and Marvel, including critically acclaimed runs on X-Men and Fantastic Four, Marvel's flagship superhero titles. His creator-owned books regularly appear in the New York Times graphic fiction bestseller list. He also has several previous novels, two radio plays and a number of TV and movie screenplays to his credit. Follow M. R. Carey on Twitter as @MichaelCarey191 and on Facebook at Facebook.com/MRCareyAuthor.
Ellen's Review:
The Fall Of Koli is book three in The Rampart Trilogy by MR Carey and I'd recommend you read them in order. Koli has been on a long journey and this book is the culmination of the events that have been building throughout the series.
Koli is definitely not in Mythen Rood anymore! At the end of the previous book (The Trials of Koli), he and his companions had found the source of the signal they had been following.
This turns out to be "The Sword of Albion", a huge ship which is the home of Paul, Lorraine and their son Stanley. It soon becomes apparent that this ship isn't the answer to their problems and is in fact now their prison. Paul and Lorraine need medic Ursula to "cure" Stanley but their reasons do not become clear until Koli and Cup do some snooping and realise how much danger they are actually in.
Monono is her sassy self but we get an insight into her long game plans for the first time…can she really turn her back on her Koli bou? 

We also catch up with the events of Mythen Rood where Spinner and her friends must defeat the village from a brutal attack by the people of Half-Ax. In a battle over precious tech both sides will do anything to succeed. 

The Fall Of Koli is a fantastic conclusion to the trilogy. MR Carey is a master at world building and creating characters you will totally invest in.
Five stars!
Check out the blog tour: